Internal brow sculpting
What you should know about Internal Brow Sculpting
An Internal Brow Sculpting releases the ligaments that tether the brow down and removes some of the excess brow fat pad (whenever in excess). By releasing the mechanical tethering of the brow tail (lateral brow) namely the orbital ligament, the superficial and deep galea, the frontalis muscle can effectively lift the brow, resulting in a more pleasant lateral arch.
In some instances, the brow fat pad is found to be in excess and the excess fat is sculpted using the same blepharoplasty incision. Excess brow fat pad is a common occurrence in patients suffering from thyroid eye disease such as Graves disease and patients taking certain cholesterol medications. An internal brow sculpting can significantly improve the eyelid and brow shape and contour.
The downtime is similar to that of an upper blepharoplasty for which reason it is recommended to have both procedures done at the same setting, whenever possible.
Practical information:

Length of surgery: 20-30 min

Anesthesia: light sedation

Hospitalization: ambulatory (day surgery)

Downtime: 1-2 weeks
Before & After
Before
After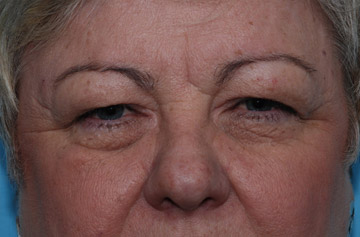 Before
After